With effect from 4th May 2021, GEW UV curing systems will be represented across France by DigitalEtiq.
Situated in Saint-Etienne in central France, DigitalEtiq is a long-established business renowned for its sales, distribution and servicing of adhesive label manufacturing machines. DigitalEtiq was formed by the team behind Graphimat and originally specialised in the sales of used machines for labels and packaging. However, the company has now developed greatly and represents a variety of prestigious brands in France, including MPS Systems, AV Flexologic and GM Grafisk Maskinfabrik. DigitalEtiq will now add the sales and servicing of GEW UV curing systems to its portfolio.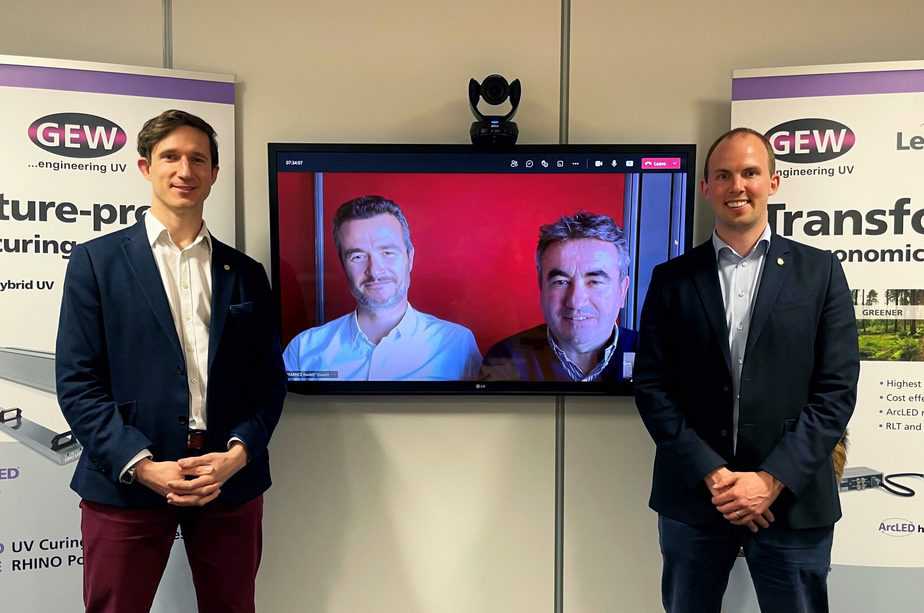 Benoît Vernay is Sales Director at DigitalEtiq. He created the business in 2014 with his brother Fabrice, building on their many years of experience in label printing machinery and production. He explains the reason for the company's position of strength in the market: "Although we have a small core team, we are highly experienced in all manner of machinery and we can call upon several technical teams to offer our customers excellent service and support. Our product portfolio is broad and now that we are able to offer the very best UV curing systems as part of that, we look forward to driving up the number of GEW UV installations across France."
Robert Rae, Managing Director of Sales at GEW, explains the reasoning behind the changes to the company's French distribution strategy: "GEW's route to market in France has been somewhat confusing to customers for many years, for historical reasons. This has led to inconsistent communication, pricing and, most importantly, support across the country for our customers.
"With DigitalEtiq, GEW starts a new strategy in France with one partner for all UV systems and service needs. I am confident that we have found a partner with all the required elements to really change the perception and activity of GEW in France. The team at DigitalEtiq have many years' experience in the printing industry and a high energy approach. Customers will see a more proactive GEW presence and we will have a major drive to assist customers in cost-effectively transitioning to LED technology.
"In addition, our French-speaking International Sales Manager, David Lyus, will be visiting GEW customers in France much more frequently. Our service levels will also be enhanced… DigitalEtiq have excellent service partners trained by GEW in the UK and available across the four corners of the country for fast, professional, on-site support. This will be backed up with a fully comprehensive stock of spare parts, already set up and ready for immediate despatch without 'Brexit complications'.
"I am excited to see what this new approach can achieve and we look forward to re-engaging with our French customers more closely than ever before."
David Lyus, International Sales Manager for GEW, concludes: "With our traditional arc systems and newer LED products, GEW has a UV curing solution for almost every application. When backed up by decades of experience, the installation of over 20,000 systems globally, and the presence of our remote monitoring service to provide first class technical support, it makes up a formidable combination. We now look forward to working closely with DigitalEtiq to deliver this technology to a broader audience in France."
Read this story in French here.
###
About GEW
GEW designs and manufactures Arc and UV LED curing systems for printing, coating and converting applications. The company is the leading manufacturer of UV systems for label and narrow web printing, with a world-class production facility at its UK headquarters, subsidiaries in the USA & Germany, and an extensive network of worldwide distributors.

GEW also specialises in the design and installation of UV LED systems for both sheetfed and web applications. The company introduced its latest UV LED product, LeoLED, in 2019. Representing the next generation for UV LED curing, LeoLED is compatible with GEW's renowned ArcLED hybrid system. In LeoLED, the technology has been redesigned and refined for simplicity to bring UV LED within affordable reach for all, while at the same time delivering maximum power and UV dose.

The company has also recently relaunched its French language website: www.gewuv.fr.
###
Press contact for DigitalEtiq (French speaking):
Benoît Vernay | bv@digitaletiq.com
DigitalEtiq, 6 bvd de l'Etivalière, 42000 Saint-Etienne, France.
T: +33 (0)4 77 51 58 04 | www.digitaletiq.com
###